If you're moving in the direction of digital books, you might be missing the feel of a paperback between your fingers or the weight of a hard cover in your hands.  Fear not; here are 10 easy ways to keep the physical written word in your life (besides buying more physical books).
1.   Creative Bookshelves
This one might seem obvious, but there's a difference between cataloging your novels like a high school library, and displaying them with some charm and style. Design Sponge has put together a brief list of tips on Styling a Bookshelf to get you started.
2.   Wall Art
Is there a quote that struck you in Pride and Prejudice?  hang it on a wall.  You could pick up a blank canvas and do it yourself, or you can let Bookishly do the work for you.  Bookishly takes favourite and loveable quotes from novels, plays and other works and places them on a blown up page from a book. You can buy their prints on Notonthehighstreet.com
3.   Name Cats After Authors
If this one sounds crazy to you… well, it shouldn't.  Names like "Whiskers"and "Fluffy"just aren't for everyone, and who doesn't see the humor in telling Oscar Wilde to get off the table?  If you're still not convinced, try telling Dickens and Chaucer that there names are are funny. Go on.
4.   Cooking with Hemingway
Are you a fan of both fiction and food?  In search of the perfect hamburger?  Apparently, so was Hemingway. According to the Paris Review, the author of classics such as A Moveable Feast was meticulous about his hamburger recipe- you can find his recipe here.  Now you know what you're doing for dinner.
5.   Make a Book Purse
Craft lovers and DIYers, this project is for you.  Create your own book purse out of a hard cover novel and some matching fabric. We know, we know… Cutting up books is nothing to take lightly. But we all know that there's a book somewhere on your bookshelf that you won't ever read again  You may have a virtual copy of it already on Sumbola anyways!  Give it new life as a fashionable accessory any reader or writer would fancy. You can find the project instructions on Curbly.com
6.   Wear It on Your Sleeve
If ever you're unsure what to wear, you can't go wrong with lit-inspired clothing.  If anything, a dress that doubles as a map of Middle Earth is sure to be a conversation starter.  You can check out Flavourwire's Literary Fashion for more inspiration. If a temporary outfit isn't your style, refer to number seven.
7.  Tattoo You
If your thinking about ink, think twice about that dolphin in a heart or barbed wire, and reconsider your favourite literary reference.   Buzzfeed has 50 Literary Tattoos for you to consider, ranging from Little Prince homages to Gatsby Glasses.
8.  Character Cocktails
Drinks inspired by characters and authors alike are a great way to get creative with your next get together.  You can, of course, create your own or go to the internet for tested and true recipes, such as Little Pink Blog's Harry Potter Themed Cocktails.
9.  Stare at Your Stairs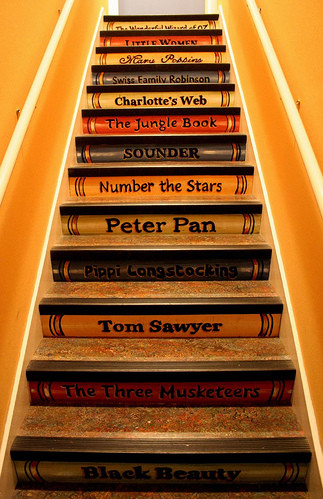 Instead using a runner to accent your stairs, you can paint  them to look like the spines of your favourite novels.  Inspiration on this home decor idea comes to us from the BookRiot's Awesome Bookish Staircases.
10.   Fall in Love, Get Married
This one might take some major commitment, but why not celebrate your love of another human being with your love of literature?  Retreat By Random House has some of the sweetest, clever ways to add books to your wedding theme.